Journal Articles
Terra Brasilis : Revista da Rede Brasileira de História da Geografia e Geografia Histórica
Year : 2015
Le monde dévoilé par l'image.
Fichier principal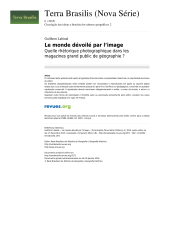 ArticleGLabinal_terrabrasilisMonde_devoile_parImage.pdf (430.44 Ko)
Télécharger le fichier
Origin : Publisher files allowed on an open archive
Cybu Recherche : Connect in order to contact the contributor
https://hal-cyu.archives-ouvertes.fr/hal-02979916
Submitted on : Thursday, September 30, 2021-10:23:32 AM
Last modification on : Wednesday, October 26, 2022-3:57:38 PM
Long-term archiving on: Friday, December 31, 2021-6:25:18 PM
Dates and versions
Identifiers
HAL Id :

hal-02979916 , version 1
Cite
Guilhem Labinal. Le monde dévoilé par l'image..
Terra Brasilis : Revista da Rede Brasileira de História da Geografia e Geografia Histórica
, 2015.
⟨hal-02979916⟩