Collocations and support verb constructions in Latin grammarians and few antique manuals: a didactic unthought?
Collocations et constructions à verbe support chez les grammairiens latins et dans quelques manuels antiques: un impensé didactique?
The paper deals with collocations and particularly support verb constructions (SVC) in the Latin grammarians and thinkers. In the first part, we show how these two linguistic phenomena are important in the didactics of the (native or foreign) languages. In the second part, after giving the methodological framework, we analyze the metalinguistic discourse of the artigraphic and hermeneutic texts. The last part deals with the collocations and SVC in the Latin manuals (the Hermeneumata Pseudodositheana): we do a quantitative and qualitative analysis from the data of these manuals, in order to evaluate the role of the collocations and SVC in the learning and teaching of the languages.
L'étude analyse la manière dont les collocations et, plus spécifiquement, les constructions à verbe support (CVS) ont été appréhendées par les grammairiens et penseurs de l'Antiquité. Une première partie s'attache à réinscrire la question des collocations dans la didactique des langues (premières ou étrangères). La deuxième partie s'appuie sur les discours artigraphique et herméneutique et explore la manière dont les lettrés latins abordent la question d'un point de vue réflexif, à partir de considérations traductologiques. Enfin, la dernière partie envisage concrètement notre objet dans une série de manuels (les Hermeneumata Pseudodositheana) et propose une analyse quantitative et qualitative des données afin d'évaluer la part, même minime, des collocations et CVS dans l'apprentissage linguistique.
Fichier principal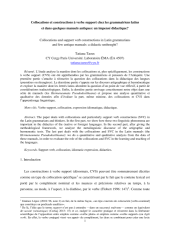 HAL-Ttaous-CVS-Préprint.pdf (598.12 Ko)
Télécharger le fichier
Origin : Publisher files allowed on an open archive